Antique Sterling Silver, Jewelry, Napkin
Rings, Victorian Objects
About
Hill and Hill
Our Service Pledge
We pack to SURVIVE and ship promptly. Our Customers SMILE when they open their package....
About Us
HILL and HILL
Exclusively on Ruby Lane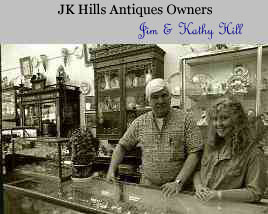 Over 60 Years of combined Experience
Assures Satisfaction

You will smile when you open your package.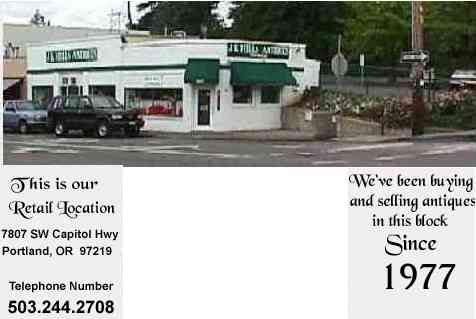 This was our Last Store in Multnomah Village ! We closed our doors in April 2006.

In Portland, Oregon
PEEK inside our store !



Our Ruby Lane Store is our ONLY Store !
Kathy & Jim Hill
In Vacation Mode
Portland, OR 97219-3411
Tel: (503) 246-6561
10:00 am -10:00 pm (PST) Please

We are currently unavailable until Wednesday, March 1. We will try to respond to emails during our absence. Purchase orders are welcome and will automatically reserve the item for you. We will be happy to confirm your purchases and answer any questions upon our return.
Email Shop