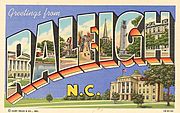 Raleigh, NC
Fine Gold & Silver Estate Jewelry & Signed Vintage Costume Jewelry~ Raleigh NC~Cameron Village.
Favorite Links
Serving the Online Community Since 1998

Shop . Sell . Relax
Antiques & Art . Vintage Collectibles . Jewelry

This is a lovely home for older dogs who have nowere else to go. They gratefully accept donations. Thanks, Janey


White Oaks of Raleigh on Face Book.


Chinese, Japanese, and Southeast Asian Works of Art


Full selection of Irish jewelry and gift items. The only dealer carrying exclusive Irish merchandise. Located in The Cheshire Cat Gallery, Raleigh NC.


Dealer in electric mid-modern furniture and collectibles. Also specializing in record albums and retro art work. Located in the Cheshire Cat Gallery, Cameron Village, Raleigh NC

Add a link to me!