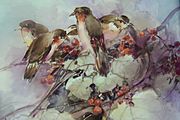 Hillsborough, NC
Specializing in 19th & 20th Century European HP Porcelain. "Cerca Trova"- He Who Seeks, Shall Find!
Favorite Links
Serving the Online Community Since 1998

Shop . Sell . Relax
Antiques & Art . Vintage Collectibles . Jewelry

Unique Art from an even more unique person!


Try your Aroma Locket with an Affirmation Oil and enjoy positive thoughts throughout the day.


Amazing Tea Lights- Eco-friendly!


Click here to see all of our Ruby Lane Items currently up for Auction on Ebay!


China Supplies and Educational Material on China Painting- Past & Present


Please view my Blog site for information on Limoges Porcelain and to see a Gallery of Recently Sold Items!

Add a link to me!