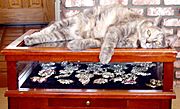 Woodland, CA
An eclectic mix, from Victorian to Mexican silver to rhinestones. You can never have enough jewelry!
Favorite Links
Serving the Online Community Since 1998

Shop . Sell . Relax
Antiques & Art . Vintage Collectibles . Jewelry

My other shop with a great selection of vintage costume jewelry, nothing over $50.


Wide variety of beautiful jewels, really nice seller.


High quality treasures, friendly seller!


Wonderful seller with a wide variety of items at great prices!


Outstanding seller with a great eye! Wonderful eclectic selection of merchandise from antiques to jewelry.

Add a link to me!