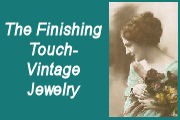 Raleigh, NC
THE place for unique and unusual vintage jewelry for the perfect "finishing touch"
Favorite Links
Serving the Online Community Since 1998

Shop . Sell . Relax
Antiques & Art . Vintage Collectibles . Jewelry

Fantasy Commemorate Chips, Brothel Chips and More


An eclectic mixture of hand picked vintage and contemporary costume jewellery and other small collectable pieces at prices that suit your purse


Collectible silver and costume jewellery – both vintage and older - mainly from Scandinavia, UK and Continental Europe


Ever-evolving assortment of Antique Victorian Jewelry, Art Deco Jewelry, Celluloid Jewelry, Vintage Silver Jewelry, Bakelite Flatware & Utensils, Dolls, Doll Clothing. Worldwide Shipping


Vintage and contemporary designer and high end jewelry, with an emphasis on rhinestone jewelry.


Let's Get Vintage offers signed and unsigned quality vintage costume jewelry from designers such as Boucher, Caviness, Coro, Hagler, Jomaz, Sherman, Swarovski, Trifari and Vendome, to name a few. Find rhinestone pieces, brooches, butterflies, Christmas tree pins, parures, necklaces, earrings and more.


We sell a beautiful and unique range of silver jewellery, from designers such as Jackie Brazil, Kazuri, 21st Century Silver, Kit Heath, Watch This Space, Mexican Silver, Dante Fashion jewellery , New World Crystal jewellery and Annie B.


Featuring quality antique jewelryand estate jewelry including Victorian jewelry, Art Deco jewelry, antique cameos, vintage costume jewelry, Bakelite and more. Jewelry for men, women and children.


Vintage and Antique jewelry with many high end designers.


Signed & Unsigned Vintage Costume & Collectible Jewelry


Nice range of bakelite jewelry as well as general vintage and designer jewelry


Vintage Costume Jewelry, Cameo Jewelry, Christmas Tree Pins, Damascene Jewelry, Micro Mosaic Jewelry, Sarah Coventry Jewelry and much more!


Hot trends, designer and vintage jewelry information and general jewelry gossip.


Where Beautiful Jewelry Begins! We sell exquisite sterling silver pendants, charms & jewelry findings.


Original FUNKY Artisan Jewelry designs and collectible Vintage Jewelry


Vintage Costume Jewelry, Designer Vintage Jewelry, Thematic Jewelry - Christmas Jewelry, Religious Jewelry, Zodiac Jewelry, Monogram Jewelry and more!

Add a link to me!