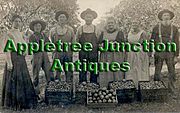 Mendota, IL
FREE 1st Class Mail International Shipping Without Insurance on Canadian/Australia Jewelry over $60
Favorite Links
Serving the Online Community Since 1998

Shop . Sell . Relax
Antiques & Art . Vintage Collectibles . Jewelry

Collectibles with a vintage sensibility. Any weekend finds me scouring auctions for "fun stuff". My finds are for your pleasure and mine. Speciality in fashion accessories and soft goods.


Head Vases, Figural Pottery, Vanity Items, Jewelry and more Fun Vintage Collectibles & Antiques Spring Fever Sale on quality antiques and collectibles for collecting, decorating, gifts or just plain fun!


A wonderful selection of vintage and antique handbags offered by Madonna.


From your Past Memories! Our goal is to provide our customers with quality products, professional service with a long lasting relationship.


A great source for kitchen collectibles, including Jadite, Delphite, Fire King, McKee, Jeannette, Pyrex, and more.


Specializing in china, glass, pottery, vintage kitchenware, and small collectibles.


Purveyor of Heirloom Antiques and Collectibles.


Offering a range of antiques and collectibles including discontinued china and figurines, jewelry and linens.


Come visit us at our brick and morter shop at 708 Illinois Avenue in Mendota Illinois.We specialize in rare books, antique and vintage jewelry and much more! Looking for to see you!

Add a link to me!