Popover right
Sed posuere consectetur est at lobortis. Aenean eu leo quam. Pellentesque ornare sem lacinia quam venenatis vestibulum.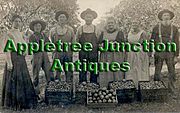 Displaying Items 1 - 3 of 3
SALE Vintage Collectible Creamy White with Light Yellow Hue Colored Rotary Dial Phone 1960-70s Excellent Condition Still Works
$54 USD Sale
SALE Vintage Collectible Avocado Colored Rotary Dial Telephone from 1960-70s Still in Excellent Working Condition.
$48 USD Sale