Popover right
Sed posuere consectetur est at lobortis. Aenean eu leo quam. Pellentesque ornare sem lacinia quam venenatis vestibulum.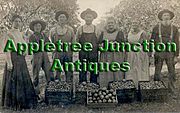 Displaying Items 1 - 12 of 12
SALE 10% OFF Vintage Anchor Hocking Green Depression Glass Pitcher Vertical Optical panels Lattice Like Motif Around The Pitcher 1930s Excellent Condition
$39 USD Sale
SALE Vintage collectible three breakfast sets of Anchor Hocking Fire King green bowls and cups of the Kimberley pattern from the 1950-60s.
$47 USD Sale
SALE 20% OFF Vintage Collectible Anchor Hocking Fire King Turquoise Blue 8 1/2" 3 Quart Mixing Bowl Excellent Condition
$30 USD Sale
SALE 10% OFF Vintage (8) 8 Oz. Georgian Cobalt Blue Tumblers Anchor Hocking 1940-50s Very Good Condition
$53 USD Sale
SALE 10% OFF Vintage Anchor Hocking (11) Forest Green Juice Glasses Inspiration Pattern 1940-65 Like New Condition
$89 USD Sale
Two Vintage Anchor Hocking Fire King Cereal Bowls Kimberly Pattern 1950-60s Like New Condition
$18 USD
Vintage Anchor Hocking (4) Forest Green Sherbets Inspiration Pattern 1940-65 Like New Condition
$24 USD
SOLD 20% OFF Vintage Anchor Hocking 80 Oz Crystal Ball Jug Laurel Etching 1940s Excellent Condition
SOLD