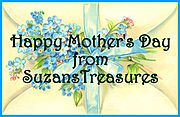 Huntingtown, MD
Heirloom and Vintage Jewelry, Antiques and Fine Collectibles
Favorite Links
Serving the Online Community Since 1998

Shop . Sell . Relax
Antiques & Art . Vintage Collectibles . Jewelry

An amazing artist - you can view the progress of her paintings on facebook. Must see!


A great place for incredible vintage jewelry - featured in my September 2009 "Flower of the Month" article.


My favorite place for heirloom flowers! I have many of their daffodils and botannical tulips in my garden.


Antique & Vintage Porcelain, Pottery, Glass, Books, Tins, Collectibles, Papier Mache, Tole - Truly lovely things!


If you dream of the unique & unusual jewelry..from heirloom to vintage.. Let us help you realize that dream!


My article in Ruby Lane's "Past Times" , February 2008


Wonderful high quality accessories for your antique dolls - Purses, Hand Fans, Vanity & Hair Accessories, Furniture, Miniature Sewing Notions, Photo Albums, Tea Sets and Dishes, Toys, Clothes, Doll Jewelry, & Much More!


Jewelry making supplies for the professional jewelry designer and the hobbyist. Great variety of stones and settings.

Add a link to me!