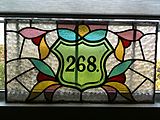 San Antonio, TX
An eclectic collection of flow blue, pottery, porcelain, stained glass & art from around the world.
Favorite Links
Serving the Online Community Since 1998

Shop . Sell . Relax
Antiques & Art . Vintage Collectibles . Jewelry

A Community For People Who Buy, Sell or Collect Antiques, Collectibles and Art I've found this to be a great resource for sharing, identification, and of course, blogging about antiques.


Welcome to my FaceBook page for my antiques business. View items listed and sold on Ruby Lane, through private sales and shows, discuss antiques, ask questions and in general, share my love of antiques.


We are a group of over one thousand of the world's friendliest folks, including over seventy generous dealers, bound together by our love, and occasional lust, for flow blue and mulberry china. Our membership spans forty-nine states (Get with it Hawaii!) as well as England, the United Kingdom, Germany, Canada, Australia, and Israel.

Add a link to me!