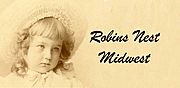 St. Peters, MO
ECLECTIC? You bet! Antiques, Collectibles and Fine/Costume Jewelry in EVERY Price Range!
Favorite Links
Serving the Online Community Since 1998

Shop . Sell . Relax
Antiques & Art . Vintage Collectibles . Jewelry

Gypsy Madonna is one of my sites on ETSY where I offer a more varied inventory of my religious items.


Please LIKE my Facebook page. That way, you'll keep track of what I'm up to, items I'm offering and special promotions!


Robins Nest Midwest - The Website


My Blog! Want to know more about how I find the stuff - check my blog!


A Quest for the Finest in Antique and Collectible Treasures!


Fine Antique Rose Paintings, Old Rose & Floral Prints, Vintage Paper & More!


Robin Allison is one of the most amazing people! Co-collaborator on many of the best jewelry books around, Robin is known for her savvy knowledge on many forms of jewelry, including, but not limited to Victorian, Art Nouveau, Edwardian, Arts & Crafts, and Art Deco gold, sterling & enameled jewelry. If you want to see some of the loveliest jewelry around - please check out Robin's website!

Add a link to me!