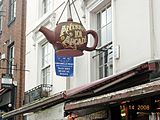 Nashville, TN
Antique English smalls of quality
Favorite Links
Serving the Online Community Since 1998

Shop . Sell . Relax
Antiques & Art . Vintage Collectibles . Jewelry

Simon is a good friend who has a good eye for jewelry and textiles. I always purchase from him when I am in England, and I am glad to see him as a Ruby Lane dealer.


This is a great site that Hayden Peters, a customer and fellow mourning jewelry collector, has just established. I have sent him some pictures of a few of my pieces, some in my personal collection, and will send more. This is a site dedicated to education, and it is a great way for those of us who love this art form to display our own special pieces, so that others can enjoy them.


Gail at Catfaeries has everything you need for the health and well being of your cat. Gail also loves Georgian and Victorian Jewelry.


Great merchandise, including jewelry, and Penny is a great lady with whom to work!


Jeffery and Georiga have a lovely shop in an old house in Pigeon Forge, and I love to buy upscale country items from them for my beloved cabin there. She has opened her Ruby Lane Shop, and I know it will be great. Shop there, and stop in when you are in Dollywood and Smoky Mountain Country. I got two of my very favorite pieces there--my oak roll top desk, and my huge, cast iron tea cart!

Add a link to me!