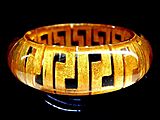 Comparisons, CA
Illustrations and Characteristics for Help in Identifying Many Confusing New Items
Favorite Links
Serving the Online Community Since 1998

Shop . Sell . Relax
Antiques & Art . Vintage Collectibles . Jewelry

The Gala-Salvador Dalí Foundation manages and operates the rights to the image, industrial property, trade marks, patents and other intangible rights derived from the artistic oeuvre of Salvador Dalí. To reproduce any work by this artist, on any medium, it is essential to contact the proper copyright authority in your country, or contact Visual Entidad de Gestión de Artistas Plásticos directly in order to obtain license to do so.


Real or Repro is the premier online source of information for those who want to research or identify reproductions relating to the antiques & collectibles market. It offers an extensive, free library containing articles and information on thousands of items spanning all marketplaces and periods. Powered by Ruby Lane, the site is endorsed by Mark Chervenka, a renowned expert on reproductions.


Rogue's Gallery of 20th or 21st century imitations of early 19th century Staffordshire figures with The Real Thing alongside.


Marks on Later Chinese Porcelain. A page offering a chronology of 20th century Chinese Porcelain based on their marks. Included in the mix are many spurious marks.


Shows multiple examples of the brass plates marked both with well known and fictional names that are being affixed to new 'antique look' iron locks from India to fool collectors.


The International Foundation for Art Research (IFAR) is a not-for-profit educational and research organization dedicated to integrity in the visual arts. IFAR offers impartial and authoritative information on authenticity, ownership, theft, and other artistic, legal, and ethical issues concerning art objects. IFAR serves as a bridge between the public, and the scholarly and commercial art communities.


Société des Auteurs dans les Arts Graphiques et Plastiques (Society of Authors in the Graphic and Plastic Arts)

ADAGP is the French collective rights management society in the field of the visual arts (painting, sculpture, photography, multimedia, etc.). It represents many well-known artists, such as Marc Chagall, and their heirs. The society ensures that member royalties are collected and distributed under optimal conditions.


The goal of this collector's website is to share information about this popular collecting niche with others. Mr. Peanut fakes, reproductions, fantasy and questionable items are everywhere. Information available here can help you identify real items and recognize those that are not.


In this installment of PBS Antiques Roadshow's Tips of the Trade appraiser Wes Cowan gives information about the new technologies being used to make different kinds of new 'old' fake photos.


American Political Items Collectors is a non-profit membership organization, dedicated to promoting the collection, preservation and study of materials relating to political campaigns and the U.S. presidency. APIC Brummagem project was originally produced in 1985 to provide a reference to political campaign memorabilia collectors regarding items that are considered not genuine. These items are generally categorized into several areas; fakes, fantasy items, or re-pins. By having this knowledge, collectors can avoid costly mistakes.


A selection of imposter pottery pieces with various spurious 'Fulper' applied marks or paper labels.


Railroadiana Online, a website for collectors and others interested in railroad history and its artifacts. Offers extensive information on all types of railroad related items.


The V&A Museum of Childhood located in Bethnal Green, London UK, aims to encourage exploration of themes of childhood past and present and develop an appreciation of creative design through inspirational collections and programs.


Approximately 5%-7% of the world trade is in counterfeit goods. The International AntiCounterfeiting Coalition Inc., (IACC) is a Washington, D.C.-based non-profit organization devoted solely to combating product counterfeiting and piracy. Be sure to see the 'Five Reasons You Should Never Fake It' section on this page.


French informational page that illustrates the many marks used over the years on Longwy art pottery.


Link to the page on the WIPO site showing registration information for maker's mark -Emaux De Louviere. Website can also be used to investigate other marks being placed on items newly made in such a way as to appear to be 'antique' in age.


Reproduction Staffordshire Figures: an 'Aide Memoire' by Nick Young


Informational site about the artist, his works and Succession Picasso, his heirs, as well as legal licensing for uses of the Picasso name or creating authorized reproductions of his works.


Newsletter containing alert information for collectors of Czech art glass, including forms like perfume bottles, vases, etc., originally marked with names such as Hoffmann, Schlevogt and Ingrid. PLEASE NOTE: this link opens the newlsetter in PDF format only. You need to have Adobe Acrobat installed in order to view it.


Illustrations and information about the full range of early 20th century mascot designs produced by Lalique to grace the sleek cars of his era. Includes useful information on the special metal mounts, marks and fakes.


The mission of the Frederic Remington Art Museum in Ogdensburg, New York is to collect, exhibit, preserve and interpret the art and archives of Frederic Remington.


Smith Glass has been crafting handmade, American-pressed glass since 1907 and is one of only a handful of American glass factories that remain in operation. Smith Glass is known for nostalgic favorites. Pink, green, amber, yellow, amethyst and cobalt glass colors were being made as early as 1926 and in the late 1920's Smith Glass began producing its well known black amethyst glass, as well.


The chance of buying a fake or married hatpin is great. What do you need to know? Read about the differences between the fake and the authentic here. Color coded links can be found in the text.


McCoy Pottery Collectors Society page showing a list of just some of the known McCoy look-alike products, including the Davey Crockett cookie jar.


The Metropolitan Museum of Art was founded in 1870 by a group of American citizens who wanted to create a museum to bring art and art education to the American people. The American Wing houses one of the finest and most comprehensive collections of American art in existence – more than 15,000 paintings, sculptures, and decorative arts objects. The extensive glass collection incorporates blown- and pressed-glass vessels, with superb works by the New England Glass Company, the Dorflinger Works, and Tiffany Studios. The collection of American stained glass, from the 17th through the early 20th century, is perhaps the most comprehensive anywhere and features the work of Louis Comfort Tiffany.


Excellent informational site on the topic of telescopes. Warns of and offers information about some of the many fakes and reproduction telescopes that can be found on today's market. Illustrated with excellent pictures of fake examples.


A website that states it is dedicated to helping the public spot reproduction (fake) Roseville Pottery.


Examples of "Flow Blue" currently found in the market place and marks to watch for on newer fakes and reproductions of this popular ware.


An A to Z compilation of all known potters in the Stoke-on-Trent area of Staffordshire, England. Resource for maker's marks and company information.


All about McCoy fakes and look-alikes. Information on the company, their trademark ills that allowed McCoy marked fake items to be marketed and a list of McCoy look-alike products.


Illustrations with pictures and other helpful information for identifying non-authentic Roseville Pottery. Includes link to actual importers original catalog.


Reproduction and fake windup, external horn phonographs. Gramophones, clocks and labels. Includes page of illustrations showing you what to look for, and why.


Nine pages of photographs of Nippon marked fakes, reproductions, and fantasy pieces. Many shapes and known decorations.


The collection of the Museum of Glass and Jewellery in Jablonec nad Nisou comprises tens of thousands of inventory numbers which mark hundreds of thousands of articles. The Museum of Glass and Jewellery is in charge of two large collection groups – the museum collection which has nineteen sub-collections and Waldes collection with two sub-collections. The sub-collections can be divided into basic (costume jewellery, books and magazines, buttons, metal costume jewellery, glass costume jewellery, medals and plaques, numismatic collection, Sachs collection, glass, Riedel glass, arts and crafts) and supplementary ones (costume jewellery technology, graphics, clothes accessories, copies, special collections and Waldes collection with its sub-collections of buttons, fasteners and clothes accessories).


Repronews.com is the online database of fakes and reproductions. It began in 1992 as the monthly printed newsletter, Antique & Collectors Reproduction News. The monthly newsletter was begun by publisher Mark Chervenka who continues to manage the online database.


Collector website dedicated to Ending the Tiffany, A.J. Nash, Anson Mills, E. Gaylord Belt Buckle and Button Scam


On this site members of the International Association of R.S. Prussia Collectors, Inc. show pictures of fake marks and the reproduction items on which they can be found.


Railroadiana Online is a website for anyone interested in railroad history and its artifacts. Offers extensive information on railroad related collectibles from lanterns to locks to dining car china, including identification of many fakes, reproductions and fantasy items.

Add a link to me!