Popover right
Sed posuere consectetur est at lobortis. Aenean eu leo quam. Pellentesque ornare sem lacinia quam venenatis vestibulum.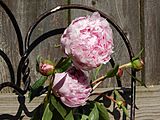 Displaying Items 1 - 11 of 11
Large Mid Century Blue Optic Art Glass Apothecary Jar with Circus Tent Lid and Footed Pedestal
$69 USD
Old Thick Captured Bubble Tumbler Souvenir Glass from PURE FOOD EXPOSITION 1903 SIEGEL, COOPER & CO.
$32 USD