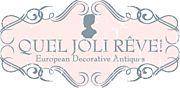 Coxs Creek, KY
European Decorative Antiques
Favorite Links
Serving the Online Community Since 1998

Shop . Sell . Relax
Antiques & Art . Vintage Collectibles . Jewelry

Handmade in France! Photos albums, baby books, wedding albums, garden journals and much more! Every work is exquisiste!


Boasting some 150,000 objects, the collections are privileged testaments to the French art of living, the savoir-faire of its craftsmen and industrialists, the research and creativity of its artists, the passion of its collectors, the generosity of our donors and the desire to pass these riches on to others. There is not a single technique, material or type of object that cannot be found in the Arts Décoratifs inventories: tiepin, escritoire, doll's house, scenic wallpaper, stained glass, wood, enamel, plastic, shark's skin and amaranth…the list is endless. Many criteria governed the selection of some 6,000 objects for permanent display, including their exemplarity, use, economy, craftsmanship, prowess and symbolism.


Masterpieces of Rodin. Breathtaking sculptures,


The world's greatest museum of art and design. Our collections are unrivalled in their diversity. Explore historical and contemporary art and design, including works of art from many of the world's richest cultures.

Add a link to me!