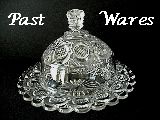 Cape Coral, FL
Closed November 14 to December 14 for Vacation
We are currently unavailable until Saturday, December 14. We may not have Internet access during our absence. Purchase orders are welcome and will automatically reserve the item for you. We will be happy to confirm your purchases and answer any questions upon our return.
Favorite Links
Serving the Online Community Since 1998

Shop . Sell . Relax
Antiques & Art . Vintage Collectibles . Jewelry

Information site about porcelain and glassware including porcelain by: Otagiri, Lefton, Schmid, Mann and others; glassware from EAPG, Depression and other eras. Includes a blog about some lesser known pieces of glassware.


An informational site about glassware and porcelain. Offers information about glass and porcelain manufacturers. Includes photo galleries to help identify items. Information about Otagiri, Lefton and others as well as EAPG. A work in progress.

Add a link to me!