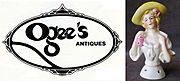 Eagle, ID
We now accept Amazon Payments and PayPal for your shopping convenience.
Favorite Links
Serving the Online Community Since 1998

Shop . Sell . Relax
Antiques & Art . Vintage Collectibles . Jewelry

A great place to join forums on antiques and collectibles


This new shop on Ruby Lane is growing quickly with a nice variety of collectibles from the fine to the funky. Be sure to check them out!


A capsule of our shop for your convenience.


Check out this great shop filled with quality glassware, antiques and collectibles!


Search Engine Optimization and SEO Tools- Free and Pay For Services.


A great site for submitting your website to the search engines for free!


For more traffic to your site for free, give this site a try.


Old South Silver is the website of Jerome Redfearn, specialist in antique silver from the south and mid-west. A commercial venture, but with a folksy side, offering interesting information on southern and mid-western silversmiths.


A fine site for locating antiques dealers as well as services for the antiques trade.


This store is crammed full of old toys and tins, advertising signs and memorabilia and unique collectibles of all kinds.


Quality Antiques & Collectibles located in Boise Idaho


Our specialty areas are glassware of all kinds with an emphasis on Depression Glass and Elegant Glass, China and Dinnerware, Porcelain, Advertising and Postcards. We do offer a good variety and mix of many other kinds of antiques and collectibles as well.


Specializing in Bauer, Blue Ridge, Franciscan, Metlox, & Vernon Kilns, Cookie Jars, Art Pottery, Depression Glass Adam to Windsor, Elegant and Art Glass & USA Potteries. Bar Accessories! Too many items to list! Many rare and hard to find items. If you didn't find what you were looking for, please ask. I do shows in the Western US and can likely find what you are looking for!


Over 1,700 Items Online! One of the largest single Antique Sites online since 1997. Offering Antiques, Collectibles, Ephemera, Books, Magazines, Sports and Memorabilia, Genealogy, Trivia, Letters From the Past, Wishlist, CyberMall, and Educational Site.


A Shop 4 Antiques is an online antiques and collectibles store featuring Glassware, American Dinnerware, Costume Jewelry, Restaurant China, and Casino Ashtrays, with lots of other fun collectible things. A Shop 4 Antiques also offers books.


At Oddities Antiques you can find all you need in antique and vintage textiles, lace, embroidery, beadwork, sewing related items, decorative homewares, personal possessions, kitchenalia and our latest addition - 'Russian Rose Designs' are fashioned out of vintage quilts and fabrics.


For the finest quality in glass repair contact our friends Wayne & Jan Montano. They repair antique and collectible glass of all types.


For a fine selection of glass, china and pottery for sale, visit this web site!


America's Largest Antique & Collectible Shows - Palmer-Wirfs & Associates Portland Oregon Expo Show has much to offer the collector of today.


The fun place to shop for antiques and collectibles in California's Bay Area.


An incredible site full of advertising and toys of all types. Plan to spend the day! Thousands of Vintage & Collectible Toys, Model Kits, Nostalgia and Sports Memorabilia for sale. Over 50,000 items listed, with over 5,000 photographed. We UPDATE daily. Stop by and visit.


A wonderful site filled with all aspects of advertising; from signs to mannequins.


A great site for getting listed with search engines. Free and paid services. Check out this site


For a wonderful trip down memory lane, check out Ian's site. He is preserving the common household items we all grew up with and presenting them for your enjoyment. I visit will be sure to bring a smile to your day.


AddMe.com, free web site submission and promotion to the search engines

Add a link to me!