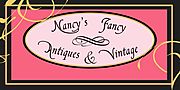 Maplewood, NJ
European and American Smalls, Jewelry, Pens & Desk Accessories, Perfumers, Sterling Boxes & Vintage
Favorite Links
Serving the Online Community Since 1998

Shop . Sell . Relax
Antiques & Art . Vintage Collectibles . Jewelry

I wanted you all to see the video that was put on You Tube to advertise our event last Sunday. Pictures to follow. It was really successful and everyone was happy with their appraisals! It was definitely a day to remember and do all over again, so stay tuned for our next adventure!

Add a link to me!