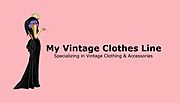 Available upon purchase, VA
Specializing in the finest Vintage Clothing and Accessories
Favorite Links
Serving the Online Community Since 1998

Shop . Sell . Relax
Antiques & Art . Vintage Collectibles . Jewelry

A great site...and,by the way, My Vintage Clothes Line had a "Vintage Pick Of The Day" thanks to Zuburbia!


Costume and Fashion History, museums, art history, lectures, conservation and scholarships.


Vintage and Antique Jewelry and Collectables


Anyone who is interested in Vintage Fashion will find this website fascinating!


Lovely antiques and collectables chosen with a lady's touch!


If you love fabulous Costume Jewelry....this is the shop to visit!


Absolutely Fabulous Costume Jewelry!


A Department Store of anything vintage, plus Designer Clothing and Accessories!

Add a link to me!