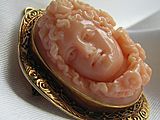 River City, OR
A Diverse Collection Of Vintage Jewelry, Vanity Items, Clothing, Accessories, & Collectibles.
Favorite Links
Serving the Online Community Since 1998

Shop . Sell . Relax
Antiques & Art . Vintage Collectibles . Jewelry

Vintage Parures opened its doors in 2003. Here you will see some of the most exquisite jewelry compiled in one place. The owner is a member of Discovering Juliana Jewelry as well as VFCJ - Vintage Fashion & Costume Jewelry. Be prepared for a treat!


R C Antiques has been in the field of antiques for 30 years and on Ruby Lane since early 2008. They are collectors as well as dealers, mostly from the turn of the century. They offer free gift service which means they will wrap it, enclose a gift card, and ship it to the person you wish it sent to. You will receive the utmost personal service from this shop!


This group is designed for collectors and dealers to assist in the verification of the genuine works of Miriam Haskell.


I encourage you to join the DJJ Group! You will learn the fine nuances of identifying this fabulous jewelry as well as making new friendships!


Here you will discover exquisite hard-cover and hard-core eye candy. Please let Debrah know I referred you!!!


Giovanna offers the most outstanding antique, museum quality cameos and corals on the web. She is a wealth of information having been a part of the family business since she was a young girl!

Add a link to me!