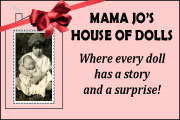 Oak Ridge, NC
Finding the right home for the right doll at the right price.
Favorite Links
Serving the Online Community Since 1998

Shop . Sell . Relax
Antiques & Art . Vintage Collectibles . Jewelry

A 10-minute film by Jacob Rosdail on my struggle to downsize the extensive doll collection that Mama Jo and I both wished could stay together forever.


A quick look at just a few of the dolls and toys that have found new homes all over the world. Your Mama Jo doll could be in the next one!


This will link you to the Kindle version of WHEN I MARRIED MY MOTHER; a revised version with bonus material. You don't need to have a Kindle device, or any e-reader, to read it. Amazon has a free app for other devices and computers that allows you to download it.


This will link you to an outstanding article Yes Weekly published on Mama Jo's House of Dolls. 25 color photos! While you're there, feel free to explore the rest of the site by clicking on the buttons (Home, Watch, Meet, Read, Listen) in the top right of the page. Thanks for stopping by.


My brother Arthur is selling some of Mama Jo's dolls on eBay as well as other dolls. This link will lead you to all of the dolls he's selling. Mama Jo dolls are indicated in their title. They are not listed on Ruby Lane at this time.


"BLACK DOLL COLLECTING... from a black-doll enthusiast's perspective" says it all. I'm continually learning new things about black dolls from this site and the author's Facebook page.


If your Ideal Saucy Walker (or lookalike or Posie) needs any repair of any kind, or you're looking to buy one, this is world headquarters. Do tell Sheryl I said hello.


Another vintage maven downsizing a loved ones doll collection. Great stuff.


Billye Harris has some of the most beautiful dolls you'll ever see. And she's a beautiful person, too. Inside and out!


Here's a short recap of my memoir WHEN I MARRIED MY MOTHER starring Mama Jo and the dolls.


Meet my impossible-not-to-love Mama Jo. Here's what she had to say about why she collected so many dolls and how she felt about them in 2003, three years before she made her heavenly ascent. You can see why I want them to "stay together" in spirit. It's my hope that when you purchase a Mama Jo doll you feel like you're part of a big extended family.


Take a quick look inside Mama Jo's House of Dolls, where every doll has a story and a surprise. Over 700 dolls looking for forever homes. Click on the pause button to take a longer look.


Please search for "Jo Maeder" or "700 dolls" to find an essay I wrote about how I came to be selling my mother's dolls on Ruby Lane. There's also a slide show of me and my mother as children with our dolls. And a short video is embedded in the essay where I ask Mama Jo how she feels about the dolls. Click on the words in blue.


Since this shop opened in August 2012, some of the new "moms" and "dads" have sent photos of their Mama Jo doll in their new home. Fun and creative, take a look!


Paperback of the Kindle Memoir bestseller with bonus material.

Add a link to me!