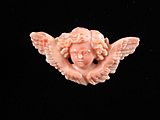 Oakland, CA
Vintage and Antique Jewelry and Accessories Selected with an Architect's Eye
Favorite Links
Serving the Online Community Since 1998

Shop . Sell . Relax
Antiques & Art . Vintage Collectibles . Jewelry

San Francisco Vintage Fashion Expo


Check out the Snapguide that I wrote on how to Fearlessly Buy at Live Auctions


The Association for the Study of Jewelry and Related Arts, LLC is an organization dedicated to the advancement of jewelry studies. It is also committed to the dissemination of knowledge to anyone who is interested in the history of jewelry. ASJRA takes a broad approach to the subject, seeking to understand and place jewelry within a variety of contexts, including from the ancient past to present day, the decorative arts, and fashion.


This is my page on Facebook where I'll be posting occasional news about shows, links to favorite articles, and other vintage-related items.

Add a link to me!