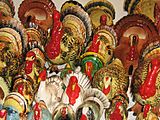 Mt Carmel, PA
Let's Talk Turkey ~ Featured in Country Living Magazine ! Timeless Treasures for you!
Favorite Links
Serving the Online Community Since 1998

Shop . Sell . Relax
Antiques & Art . Vintage Collectibles . Jewelry

Teaching us how to decorate with the things we love to collect


A community for people who buy, sell and collect Antiques, Collectibles and Art.

Add a link to me!