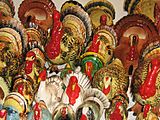 Mt Carmel, PA
Let's Talk Turkey ~ Featured in Country Living Magazine ! Timeless Treasures for you!
We are currently unavailable until Sunday, December 15. We will try to respond to emails during our absence. Purchase orders are welcome and will automatically reserve the item for you. Thank you for your patience.
Favorite Links
Serving the Online Community Since 1998

Shop . Sell . Relax
Antiques & Art . Vintage Collectibles . Jewelry

Teaching us how to decorate with the things we love to collect


A community for people who buy, sell and collect Antiques, Collectibles and Art.

Add a link to me!