Popover right
Sed posuere consectetur est at lobortis. Aenean eu leo quam. Pellentesque ornare sem lacinia quam venenatis vestibulum.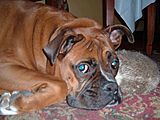 Displaying Items 1 - 7 of 7
Vintage 1960's Early Higgins Glass Round Depicting Orange, Red, Yellow Flowers, Signed
$199 USD Offer
Vintage Book with fold out maps "Activities of the United States Navy During the World War"
$275 USD Offer