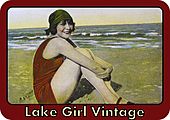 Wilmette, IL
Welcome to Lake Wazzapamani!
Favorite Links
Serving the Online Community Since 1998

Shop . Sell . Relax
Antiques & Art . Vintage Collectibles . Jewelry

Fabulous Selection of Classic Vintage Jewelry from a Knowledgeable Dealer!


Great vintage jewelry from a long time collector!


Fabulous Collectables! Take a Peek!


Gorgeous, High End Jewelry! Look!


A shop for those with a passion for vintage costume jewelry and other beautiful things!


Wonderful items & super nice dealer!!


Exquisite Collectibles and jewelry from the nicest dealer in Australia!


Drool Worthy Jewelry from a great dealer!


Utterly Fabulous Jewelry & Vintage Items from a Lovely Seller!


Yahoo Group Specialty Group that focuses on jewelry manufactured by Juliana.


So Knowledgeable and Sooooo much fun! Great Stuff and Great Deals!


Simply Fantastic, Don't Know Where She Finds It All! Offered at Great Prices!


What a selection! The ultimate collector/dealer!


Tons of fun, the best bakelite and charming needlework!


Unique Collectibles, Antiques and Fine Arts from Around the World!


A Top 50 Shop, Not to be Missed, Wonderful Items!

Add a link to me!