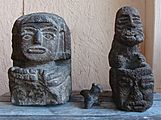 North Hollywood, CA
Affordable Antiquities, Treasures & Collectibles
Favorite Links
Serving the Online Community Since 1998

Shop . Sell . Relax
Antiques & Art . Vintage Collectibles . Jewelry

We are committed to bringing you affordable and quality antiques, treasures and collectibles.


Blogger/Blogspot is an online-publishing journal [blog] website. Karen's Little Red Wagon Blogspot is a place where I go to talk about the antiques, collectibles and treasures that I find and sell online. Also, it's where I can post pictures and discuss people, places and things that interest me too.

Add a link to me!