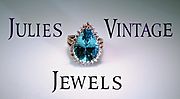 Sun City Center, FL
Specializing in Rare, Unique, High Quality, Signed, Vintage Costume & Gemstone Jewelry.
Favorite Links
Serving the Online Community Since 1998

Shop . Sell . Relax
Antiques & Art . Vintage Collectibles . Jewelry

The foremost source for vintage jewelry, collectible jewelry, designer jewelry and accessories.


The shops in our Mall offer an excellent variety of vintage and vintage costume jewelry from Victorian to Glitz.


Top Vintage Jewelry Sites.


Jewelry directory, jewelry resource & jeweler information.


Wholesale Jewelry Displays, Gift Boxes, Jewelry Boxes, Jewelry Pouches, Gift Bags & Tissue Paper.

Add a link to me!