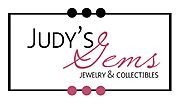 Baldwin City, KS
NOW at Judys Gems: BUY 1 Item Get the Next 50% OFF for equal or lesser Value!!!
Favorite Links
Serving the Online Community Since 1998

Shop . Sell . Relax
Antiques & Art . Vintage Collectibles . Jewelry

Designer signed and unsigned vintage jewelry - Timeless treasures of costume jewelry: Brooches, pins, bracelets, necklaces, earrings, sets and more!


vintage jewelry, linens, and other collectibles from the past


Vintage Clothing & Accessories; Vintage Collectibles; Antique & Vintage Jewelry; Porcelain; Postcards; Pottery


Vintage Costume Jewelry, Collectibles and Accessories


vintage costume jewelry, antique jewelry,estate & Victorian jewelry selections


vintage costume jewelry


Vintage antique costume jewelry, and accessories.


vintage and antique jewelry; vintage fashion magazines, fine collectibles, jewelry by Vera Battemarco


costume jewelry and collectibles


Avon Designer Signed Vintage Costume Jewelry Exclusively on Rubylane,since 2009


Vintage jewelry,and the occasional Contemporary Jewelry Pieces.


A very stylish lady who really knows jewelry


Vintage jewelry is our Speciality with items Dating from 1880 to Present


Come enjoy the view of Beautiful Collectables & Find Yourself a Treasure or Two


Quality Vintage Costume Jewelry from my Treaure Chest


Celebrate, Weddings,Bridal Showers,and Memorialize loved ones


Shop*Sell*Relax Antiques,Collectables,Fine Art and Jewelry


A site that sells vintage jewelry


Specializing in D&E aka Juliana and vintage jewelry that bedazzles and captivates those of us who collect and wear it...


A community people who buy and sell antique and vintage items.


My WebRings


>Is a group of Vintage Jewelry Sellers, that have sites on etsy,Ruby Lane, and their very own personal sites.

Add a link to me!