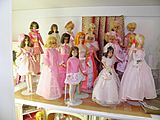 Homer Glen, IL
It's Make an Offer March! Make an offer on items over $15!
Favorite Links
Serving the Online Community Since 1998

Shop . Sell . Relax
Antiques & Art . Vintage Collectibles . Jewelry

A great place to indentify your favorite dolls.


Fabulous reproduction and original clothing for Barbie

Add a link to me!