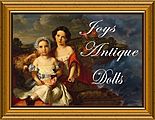 Boise, ID
Early & Rare antique dolls, clothing, accessories. Offering variety, knowledge & fine service.
Favorite Links
Serving the Online Community Since 1998

Shop . Sell . Relax
Antiques & Art . Vintage Collectibles . Jewelry

"LIKE" my Facebook page for current offerings, sale notices, and subscribers only special events.


A vast array of Vintage, Antique and Contemporary dolls, their clothes and accessories. Satisfaction is always guarenteed!


Antique Dolls And thousands more links to old vintage antiques online. Find antique dealers, appraisers, collectors, clubs and more at CollectibleDetective.com.


Estate Vintage Antiques and Eclectic Finds For You


Antique Dolls, Doll Costuming & Accessories


Antique Dolls, Toys and Accessories


Welcome to FARAWAY ANTIQUE SHOP ~ Our Specialty is Fine Antique Dolls


Vintage Clothing, Dolls, Glass, Collectibles, Antiques, Porcelain, Kitsch


Beautiful reasonably priced dolls and accessories for every budget!


Antique dolls, jewelry and other oddities.

Add a link to me!