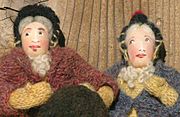 Carmel & Indianapolis, IN
Antique dolls of high quality at fair prices backed by expertise and professionalism, sold with love
Favorite Links
Serving the Online Community Since 1998

Shop . Sell . Relax
Antiques & Art . Vintage Collectibles . Jewelry

Site for the National Association of Doll Dealers - NADDA, a group of dealers who agree to adhere to a strict code of ethics in buying and selling antique dolls. Membership is limited and by application with sponsorship. We were honored this month with acceptance as provisional members and after a year of probation will be full members. This is an educational site and one that advertises NADDA's annual show.

Add a link to me!