Popover right
Sed posuere consectetur est at lobortis. Aenean eu leo quam. Pellentesque ornare sem lacinia quam venenatis vestibulum.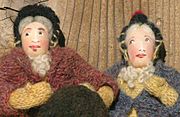 Your search for did not match any results in Shop Joan & Lynette Antique Dolls and Accessories
You have limited your search by only looking for Ruby Red Tag Items. Try Non-Ruby Red Tag Items.