Popover right
Sed posuere consectetur est at lobortis. Aenean eu leo quam. Pellentesque ornare sem lacinia quam venenatis vestibulum.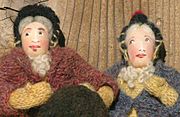 Your search for Dolls:Bisque. German. Germany, Amberg, Celebrity, Baby Peggy, Movie Star did not match any results in Shop Joan & Lynette Antique Dolls and Accessories
Add to Wish List ~ we'll email you any future matches!