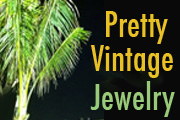 Colts Neck, NJ
Pretty, vintage things to adorn you and your home!
Favorite Links
Serving the Online Community Since 1998

Shop . Sell . Relax
Antiques & Art . Vintage Collectibles . Jewelry

I also sell antiques and collectibles in addition to jewelry on eBay!


Recollections invites you to view vintage sewing items and patterns, crochet, embroidery, knitting and tatting items, royal and political historical memorabilia as well as costume jewelry along with other interesting finds gleaned from estates and auctions here in the midwest. As always, your pleasure with an item and the memories it invokes is our first priority!

Add a link to me!