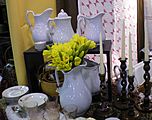 Irvine, CA
Early English White Ironstone & Transfer Ware - Antique China, Silver, Glass & Linens
Favorite Links
Serving the Online Community Since 1998

Shop . Sell . Relax
Antiques & Art . Vintage Collectibles . Jewelry

Follow Holly Lane Antiques On Pinterest


Roseville, Howard Pierce, Aladdin Alacite Lamps, Art Glass, Victorian Glass, Depression Glass & More


All things Vintage..especially Jewelry, pottery and glass


Beautiful – Unique – Organic Studio Artisan Jewelry


Your complete resource for online sales success.


Vintage Jewelry Handpicked for You


Great Vintage - Great Quality - Great Prices


Where Vintage Never Gets Old....


Your Source for Vintage Jewelry, Collectibles & Accessories


Decorative Arts, Glass, Ceramics, Metalware, Vintage Vanity, Accessories, Costume Jewelry, Fashion


Quality vintage clothes, hats, purses, dolls and other unique items of the mid 20th century.


Charmed Living at its finest!


Offering vintage and older jewelry and small collectibles


Great collectibles, friendly service, careful packing and quick shipping. Purrfect!!


Visit Holly Lane Antiques Blog


Visit Holly Lane Antiques on FaceBook and become a Fan


Lots of postcards, small advertising and historical pieces, salts & peppers and more!


Vintage Framed Prints~Lithographed Tin~Bookends~Postcards & More


Treasure Seekers Unite created this website to showcase Ruby Lane Shops.

Add a link to me!