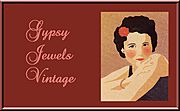 Minneapolis, MN
"Where Smart People Make Beautiful Choices."
Favorite Links
Serving the Online Community Since 1998

Shop . Sell . Relax
Antiques & Art . Vintage Collectibles . Jewelry

A one minute video of Gypsy's new Fall jewelry.


Wonderful Raku finished pendants.


Wonderful original artwork and photography of Maine by Carol Latta.


Rena's newsletter for jewelry shop owners and those who are interested in jewelry.


A quick sampling of new Gypsy Jewels for the coming season.


An excellent Ruby Lane shop with beautiful handcrafted jewelry by Regina.


Regina of Sundance Gems has an entertaining and informative blog.


A one minute video showcasing Gypsy Jewels for Fall, 2010


A wonderful site where home based jewelry artists show their handcrafted jewelry.


Soul of Somanya is a small non-profit organization that supports young jewelry artisans in Ghana, West Africa by providing sustainable employment in the field of bead work for working-age orphans and other young people whose job prospects are very limited.


Artisan crafted jewelry that's yours alone. Each jewelry design focuses on exquisite artisan-made lampwork glass beads and/or genuine semi-precious gemstones, complemented with freshwater cultured pearls, gold vermeil or sterling silver beads and authentic Swarovski crystals. Great care is taken with every detail.


Handcrafted Jewelry From the EARTH to GRACE Your Spirit. Unique Artisan Beaded Jewelry. All items are one of a kind and handcrafted with only the greatest of care.


We create it all: Unique Hawaiian Jewelry, Beach Jewelry, Classic Jewelry, Trendy Jewelry, Artistic Jewelry, Resort Jewelry, Bridal Jewelry and specializing in Beach Wedding Jewelry and Destination Wedding Jewelry. If we don't have it... you can ask us to make it!


Stylish and Elegant Handmade Artisan Jewelry ~ with Gemstones, Swarovski Crystal, Bali & Thai Silver


Handcrafted necklaces, bracelets, and earrings using gold and sterling silver. We use the best quality materials available. Our fine craftsmanship is guaranteed. We are happy to take special requests for custom pieces. Please browse the shop for beautiful and wonderful jewelry.


Enjoyment and adornment at reasonable prices. Handcrafted turned wood and other media necklaces, pendants and pins.


One-of-a-kind artisan jewelry for women who love eclectic, earthy, individual adornments.


Explains what standards members of Self-Representing Artist Jewelry Designer must meet.


Quality Antiques, Collectibles, Fine Art, Jewelry and Handcrafted Items from


Unique Handcrafted Jewelry Designs ~ Many One of A Kind Pieces ~ Custom Requests Welcome.


Vintage Sterling Silver Jewelry from Gypsy Jewels Vintage on Ruby Lane. www.rubylane.com/shops/gypsyjewels.

Add a link to me!