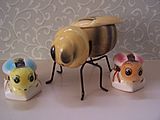 Paola, KS
Well "glory bee" ! Great estate finds here....antique, vintage & collectibles!
Favorite Links
Serving the Online Community Since 1998

Shop . Sell . Relax
Antiques & Art . Vintage Collectibles . Jewelry

Fabulous vintage collectibles & great antiques...so fun!


Bakelite specialties and wonderful antiques and collectibles...check it out!


Custom commissioned replica models, ships, boats, lighthouses,buildings,cedar chests, more!


Vintage Collectibles, Jewelry, Vintage Christmas,Pottery


Vintage & Antiques, Pottery, Indian Jewelry, Costume, Gold & Silver Jewelry, More!


Vintage Clothing & Accessories, Collectibles

Add a link to me!