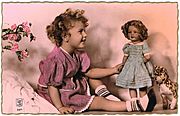 Westtown, NY
Dolls...Toys...and other curiosities
Favorite Links
Serving the Online Community Since 1998

Shop . Sell . Relax
Antiques & Art . Vintage Collectibles . Jewelry

"Fabulous to Fun - Serious to Silly - From wonderful to downright weird - There's something here for everyone - Come on in and take a look around."

Add a link to me!