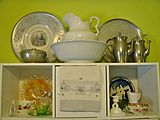 Altamont, NY
Fabulous Found Again Favorite Treasures from the Past
We are currently on vacation until Sunday, March 23. We will respond to emails during our absence. Purchase orders are welcome and will automatically reserve the item for you. We will be happy to confirm your purchases and answer any questions upon our return.
Favorite Links
Serving the Online Community Since 1998

Shop . Sell . Relax
Antiques & Art . Vintage Collectibles . Jewelry

The purpose of this collaborative project is to create an online resource for the numerous collectible glass patterns that aren't listed in most collectible glassware reference books. Many of these glass patterns have minimal collectible value, but unlike printed books that's not a major factor for inclusion here.


HIS and HER vintage clothing, shoes, and accessories, and estate finds. . . with that added flair.


Vintage Clothing, Dolls, Glass, Collectibles, Antiques, Porcelain, Kitsch


An eclectic mix of vintage jewelry, porcelain, glass, pottery & collectibles.

Add a link to me!