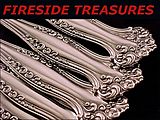 Land of Lincoln, IL
Humbly Helping to Preserve Past Treasures for Future Generations.
Favorite Links
Serving the Online Community Since 1998

Shop . Sell . Relax
Antiques & Art . Vintage Collectibles . Jewelry

Sewing patterns, fabric, glassware, vintage clothing, books & more!


Old Pyrex, Fire King, Kitchenware, Vintage Kitchen Plastic Glass Bakelite, Bowls Griswold, Military.

Add a link to me!