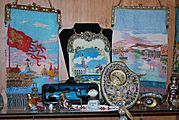 Danville, CA
Specializing in antique and vintage purses & other unique collectibles- Consignment/Sales
Favorite Links
Serving the Online Community Since 1998

Shop . Sell . Relax
Antiques & Art . Vintage Collectibles . Jewelry

Wonderful array of vintage and antique purses of every kind!


"A Wide-Ranging and Impressive Array"


Head Vases, Vintage Purses, Jewelry, Unusual Finds


Can't beat the prices for glittery beads and other fun jewelry.

Add a link to me!