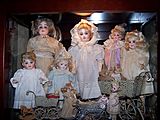 Torrington, CT
Spring is Just Around the Corner, Celebrate it with a Wonderful Doll!
We are currently away until Tuesday, March 11. We will try to respond to emails during our absence. Purchase orders are welcome and will automatically reserve the item for you. We will be happy to confirm your purchases and answer any questions upon our return.
Favorite Links
Serving the Online Community Since 1998

Shop . Sell . Relax
Antiques & Art . Vintage Collectibles . Jewelry

Doll offerings include Vintage, Collectible, Cloth, Compo, Vinyl, Hard Plastic, Paper, Barbie, and Doll Accessories.

Add a link to me!