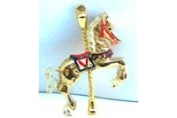 North Charleston, SC
Artisan and Vintage Jewelry, Unique Collectibles
Favorite Links
Serving the Online Community Since 1998

Shop . Sell . Relax
Antiques & Art . Vintage Collectibles . Jewelry

Auction Bargains galore on Vintage Jewelry, Collectibles, Vintage Sewing, and Jewelry Accessories are found in my Ebay store! I offer the same quality service on my Monthly, end-of-month bargains AT AUCTION! Currently running 49+ Vintage and Collectible items plus Close-Out Estate items!

Add a link to me!