Antiques & Collectibles: Porcelain, china, glass, perfume bottles, vintage tins,
postcards & more...
About
Collecting Memories - Antiques & Collectibles
Our Service Pledge
I respond to all emails with 24 hours. Orders will be shipped out within 2 business days if payment made by Paypal. The mailing date will vary for other methods of payment (see details under "Shipping and Handling Policy").
About Us
WELCOME TO COLLECTING MEMORIES!
Please visit my shop to create treasured memories
for family & friends
with special mementos of times-gone-by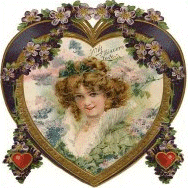 Antiques & Collectibles - Fine porcelain, china, decorative tins, postcards, perfume bottles, glass & more...


Fine porcelain, china, and pottery: (Nippon, Occupied Japan, RS Prussia- & RS Germany-related, Haviland, Limoges, MZ Austria, Dresden, Rosenthal, Staffordshire wares - Masons, Spode, Coalport, Alcock, Aynsley, etc.); decorative tin containers, bowls and trays: (Daher, Canco, Artstyle, Huntley & Palmers, Horners, Rileys, etc.); vintage vanity & glass items: (I. Rice, Waltersperger, Imperial Glass, Westmoreland, etc.);
antique and vintage postcards, tradecards & valentines: (Tuck, Winsch, PFB, International Art, etc.).


Only items which I love! Evoking themes of flowers (especially violets and roses!), chocolate, tea, coffee and idyllic
landscapes.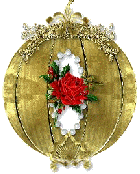 For as long as I can remember, I've been drawn to objects which were used (and loved) by earlier generations. So, it's not surprising that I ended up training as an archaeologist. After years spent studying artifacts of the ancient Mediterranean, I received a beautiful Masons
Belvedere
prunus jar from my mother and thus began my journey into the world of 18th-20th century porcelain, china and pottery. I believe that in our busy and sometimes stressful lives, it is important to take the time to remember and appreciate traditions and treasures of past generations and to make the time to collect special memories (and traditions) of our own.

Collecting Memories
is a bit like having my own, ever-changing museum! So here you are...beautiful items at
reasonable
prices. Enjoy browsing in my shop and exploring my links into the history and traditions of earlier periods. I add new items to my shop regularly and am constantly on the lookout for interesting web sites, so please check my shop and "My Favorite Links" often. And please email me with any questions or advice! Thanks for visiting my shop and please stop by again when you're traveling through Ruby Lane...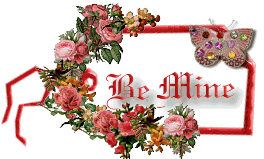 Lay-Away Plan Now Available upon approval.




Basic terms: for purchase totals between $100-$499, I generally set up the plan for 3 equal payments over a three-month period - but am certainly willing to consider a modified plan. For purchase totals over $500, I prefer 25% deposit and the balance paid within six months in equal, monthly installments. If a payment is late (more than 10 days), there is a $10 late fee. If the sale is canceled at some point, all monies will be refunded minus a restocking fee of 10% (of the purchase price).
** Antique & Vintage Postcards, Tradecards & Valentines **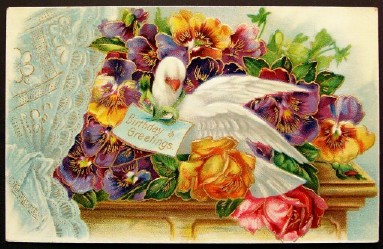 Discounts
on postcard, tradecard, and other paper ephemera purchases. Terms do not apply during storewide sales and special promotions.
Free First Class Shipping
to U.S. locations on multiple item paper/postcard orders or paper/postcard orders over $25. Please ask about shipping discounts to other locations.
There is a
10% discount
off the listed price for all postcard orders
from $75 to $150
; for
orders over $150
there is a
15% discount.
Any 'groupings' of cards which I have listed as a single item, will count as 1 card.
Thanks for taking time to browse through my shop!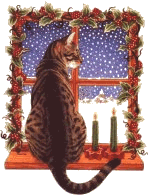 May you be blessed and find moments of peace and joy each day