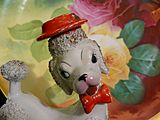 Zionsville, IN
Specializing in Limoges porcelain, other porcelains, antiques and collectibles
Favorite Links
Serving the Online Community Since 1998

Shop . Sell . Relax
Antiques & Art . Vintage Collectibles . Jewelry

Handmade candles, ribbons, bags, etc. with Italian or French scripts.


Favorite economical place for custom cards, papers, or print-your-own!


Shop for Limoges porcelains.


Shop of Debby DuBay, noted author and appraiser of fine antique Limoges porcelains.

Add a link to me!