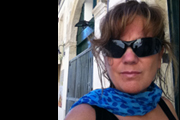 Westbank, BC, Canada
Raised by wood nymphs, Julia is in touch with her Mother Nature.
Favorite Links
Serving the Online Community Since 1998

Shop . Sell . Relax
Antiques & Art . Vintage Collectibles . Jewelry

Facebook - you need to be signed in to Facebook to view this page. Add me as a friend if you are on there!


Contemporary Fine Art


Home webpage of Canadian Artist Julia Trops. CV, resume and artist statement.

Add a link to me!