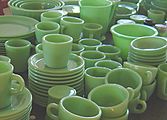 Upstate, NY
Your source for Jadite, Delphite, Fire King, Mckee, Corning, Pyrex, and More
Favorite Links
Serving the Online Community Since 1998

Shop . Sell . Relax
Antiques & Art . Vintage Collectibles . Jewelry

The largest vintage and antique directory on the web


A variety of vintage, depression & elegant glassware, china & pottery plus other treasures. Beautiful, exceptional items to beautify any home at affordable prices.


My shop have a lot of different collectibles that your visitors will enjoy from vintage handbags, dress patterns, collections of vintage dinnerware, pottery and more.


Designed by my nephew...here is another way to find us on the webb! An information only site, please place all orders through our Ruby Lane site.


A vintage Pyrex glassware community featuring pictures, discussion, articles and a pattern reference guide for easy identification.


The Anchor Hocking Glass Museum is dedicated to preserving the history of Anchor Hocking glass and houses over 12,00 pieces of glass as well as literature on the company! Open by appointment only, the museum is located in San Antonio Texas.


My friend from Japan has opened a shop on ebay. Please visit her store to find wonderful items from Japan!


LOCATED NEAR SCENIC LAKE WALLENPAUPACK ON Rt. 6 IN HAWLEY PA THIS IE THE THE LAKE REGION'S LARGEST MULTI-DEALER SHOP.


This shop is hoping to serve your vintage kitchen decor needs with Fire-King, Jadeite, retro Plastics, Canisters, Salt and Pepper Shakers and more. You'll find only authentic vintage items for sale in our shop!


Offering a range of antiques and collectibles including discontinued china and figurines, vintages jewelry and linens.


Helpful link for Japanese buyers who may need assistance with their ordering. There is a fee for using their service.


One of the Web's first and largest sites for depression glass, elegant glassware, and depression-era kitchenware.


Always something new in vintage!


A great variety of Depression Glass, Fire King, Jadite, and vintage collectibles.


Nice site to visit


One of the Web's first and lartgest sites for depression glass, elegant glassware, and depression-era kitchenware.


A great site for Depression Glass, Elegant Glass, Milk Glass, Fenton, Westmoreland


Antiques and Collectibles information and resources!


Specialize in vintage kitchen and household items but have a variety of fun and useful collectibles from the 1940's-70's.


"From your Past Memories! Our goal is to provide our customers with quality products, professional service with a long lasting relationship. FREE 3 day shipping within the USA!"

Add a link to me!