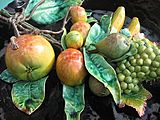 Burlington, ON, Canada
Buy Antiques * Save the Planet * We sell Genuine Antique & Vintage items only. WELCOME!
Favorite Links
Serving the Online Community Since 1998

Shop . Sell . Relax
Antiques & Art . Vintage Collectibles . Jewelry

We feature affordable, high-quality works, specializing in daguerreotypes, ambrotypes, tintypes, salt, albumen, carbon and platinum prints.


Quality silver antiques & collectibles from Europe & Greece

Add a link to me!