Popover right
Sed posuere consectetur est at lobortis. Aenean eu leo quam. Pellentesque ornare sem lacinia quam venenatis vestibulum.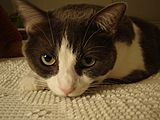 Your search for Vintage Collectibles:Hallmark:Vintage Hallmark Hallmark Cards, Inc. Hallmark Ornaments Christmas Ornaments Santa Claus Carousels Light And Motion Christmas Ornaments did not match any results in Shop Aunties' Attic, Antiques
Add to Wish List ~ we'll email you any future matches!