Popover right
Sed posuere consectetur est at lobortis. Aenean eu leo quam. Pellentesque ornare sem lacinia quam venenatis vestibulum.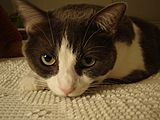 Displaying Items 1 - 11 of 11
Antonio Zatta 1769 Map of Indian Nations of Upper Mississippi Valley and Lake Michigan Regions
$1,345 USD
MAP: Siciliae Regnum (Kingdom of Sicily) CIRCA: 1630 by Gerard Mercator. Printed by Henricus Hondius.
$1,450 USD